As the title suggests, I do, in fact, enjoy brews, brats, and bikes. Maybe not exactly in that order, however. As an avid biker or motorcyclist, whichever term you prefer to use, I don't consider my bike as a toy, but rather a tool. Suffice to say, without it, many experiences I would never have had, many places I would never have seen, and many people I would never have met. An epic bike camping trip I took one unseasonably warm, late October week was the epitome of my riding to date.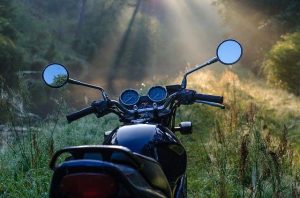 Whenever I go for a ride, I usually head south and west. With hairpin turns and sweeping curves, the mountains are a bikers best friend. If not the best, certainly the most fun. It just so happens that over the past decade or so, breweries, cideries, and distilleries have popped up all over what I consider my personal playground, the Allegheny and Blue Ridge Mountains. It's not unusual for me to take a 400 mile day trip and stay in the mountains for twelve hours. I live near Charlottesville, Virginia and frequently ride through the counties of Amherst, Augusta, Bath, Greene, Highland, Nelson, Page, Rockbridge, Rockingham, and more.
It's a toss up between May and October when I think about my favorite month of the year. That's always when I take vacations. In May, the green leaves return to bushes and trees, along with their flowering buds while the day and night temperatures are generally comfortable. Perfect outdoor patio weather at your favorite brewery. October explodes into color as the nights become cooler, which are followed by sunny blue skies during the day. Perfect outdoor patio weather at your favorite brewery. Of course, you need transportation, and what better tool to get you there than a bike?
The last week of October was forecasted to be unseasonably warm, after an unseasonably cool week just prior. The cold air rapidly changed the birch, maple, oak, and poplar trees in the higher elevations to a landscape of fire. The following week, with highs in the 70's during the day and lows in the 50's at night, it was perfect weather for a bike camping trip, something I had never experienced. I enjoyed riding and camping, had the supplies and tools for both, so thought, why not? I packed everything I needed (or thought I needed) and hit the road early in the morning.
I took Route 231 through Madison and Rappahannock Counties to Sperryville. It was a little too early to stop by Pen Druid Brewing, which offers small batch ciders from Virginia-grown apples. Right beside Pen Druid Brewing is Copper Fox Distillery, which also uses local fruitwoods for their smoking. Opened in 2005, Copper Fox was "the first US distillery malt floor and kiln since the repeal of Prohibition." Again, I was too early that day, but I'd recommend taking home a bottle of their Apple Brandy Barrel Finish Single Malt or Peachwood American Single Malt after a tour.
From Sperryville, I took Route 211 West over the Blue Ridge and through Shenandoah National Park to the town of Luray in the Shenandoah Valley. Downtown Luray is a great place to walk around and find something to eat and drink. It still has a hometown feel, even to those just passing through. Hawksbill Mountain is the highest point in Shenandoah National Park, and many places use Hawksbill Mountain as their namesake. The Hawksbill Greenway is a two mile paved trail that runs beside Hawksbill creek, complete with benches, picnic tables, and restrooms. It made a perfect first stop for me to get off the bike and stretch my legs some. I do, however, usually get a few strange looks as I'm walking the trail in large black boots, leather chaps, and a vest covered in patches.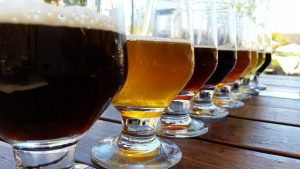 Hawksbill Brewing Company advertise their beers as, "From the farm, to the kettle, to the keg, to the glass." They rotate pilot recipes and seasonal beers, in addition to their regulars that are made from locally grown hops, fruits, and honey. It was still mid-morning, so I wasn't ready for a beer. If it was just a little later, I may have walked over and purchased a pint of The Haymaker Cream Ale or Farmer's Brown Ale. If you stop by with a younger one, Hawksbill Brewing still has you covered. They offer a non-alcoholic root beer made with local honey, appropriately named Boo Beer.
After I was done with my walk on the greenway, I rode to the north side of town to fuel up and meet a fellow biker and work friend, who I would ride the majority of the day with before he returned home and I made my way to my campsite for the night. Matt and I met and rode back up Route 211 to get on Skyline Drive at the Thornton Gap Entrance Station to head southbound. For the next 85 miles or so we straddled the top of the Blue Ridge Mountains. Attempting to keep your eyes on the road while taking in the views is a delicate balancing act on a bike. Skyline Drive turned into The Blue Ridge Parkway at Afton Mountain as we entered Nelson Country.
Route 664 is a twisty, steep mountain road with portions that have over a 15% grade, which takes you down into the valley that holds the headwaters of the Rockfish River, in the heart of Nelson County. This is where you'll find Nelson 151, a trail of breweries, cideries, distilleries, and wineries. Matt and I turned north on Route 151 towards Wild Wolf Brewing Company for lunch. I had been on the bike for the better part of the last five hours and was ready to eat, and have a drink. Here's a recommendation: Whether you're traveling for business or pleasure and you go out with the intention of purchasing drinks, always ask for local brews because you may find a new favorite. I ordered the shrimp and grits, and with thirteen beers on tap, it was a tough decision. The menu's recommended pairing was Czeched Out Pils, which is what I went with. After our meal, we strapped on our helmets to hit the road again.
Five minutes and we were off the bikes. I felt guilty because while I was on vacation, my wife was not. Three miles of pavement and a short gravel road took us to Hill Top Berry Farm and Winery. (How to be a good husband tip #1: Bring home a gift.) In this case, the gift was Hill Top's Lavender Mead. Dragon's Blood and Tiger's Eye are my personal favorites, but I wasn't there for me. After our short stop, we headed back to Route 664 to take us to The Blue Ridge Parkway again, but we had to make another stop before going up the mountain.
Matt wanted to hit Devil's Backbone Basecamp Brewpub and Meadows. At their Basecamp location they hold races, festivals, music, serve food, and have dozens of beers on tap. By the way, you can even camp here! But this wasn't going to be my site for the night. Can you fit a growler in a saddlebag? We were about to find out. He knew what he wanted walking in and ordered a growler filled with one of Devil's Backbone's staples, Vienna Lager. We don't make it a practice of drinking much and riding, so this was a take home only stop. I waited outside on the patio to listen to and watch a young band quickly pick on a few banjos. I would've been happy to stay, but we had more mountains to ride. Several other stops along Nelson 151 include Blue Mountain Brewery, Blue Toad Cidery, Bold Rock Hard Cidery, Brewing Tree Beer Company, and Silverback Distillery, but none of those were on our list that day. It turns out a growler does fit in a saddlebag.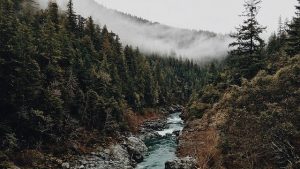 Back on The Blue Ridge Parkway, we rode south towards the James River, which would be just below my campsite. We arrived at Otter Creek Campground late in the afternoon and said our goodbyes as my friend most certainly took a roundabout way back home. I had camped here before and selected the exact same pad site. With the water of Otter Creek bubbling over the rocks a mere twenty feet away, the pad site was also completely shaded and came with a fire pit, food pole (for the bears), picnic table, and a place I could park the bike right in front of it.
While setting up camp, I was briefly interrupted when two other bikers slowly rolled past and we waved to each other. I immediately noticed two things about them. The first was towing a huge trailer and the second had a large black lab riding on the back seat. My riding gear was folded up in the saddle bags, the food was hanging, my foldable chair was sitting with a book in the seat ready to be read, and firewood had been collected and the teepee was ready to be lit. I took the sleeve off of my rolled up single-person tent that I normally used for backpacking. The ground mat was on the pad, the tent was laid out on the mat, and the poles were constructed and raised. Oh no. Remember how I packed everything I needed? That was a lie. I had failed to place the tent stakes in the bag after I had taken them out to dry the tent from its last use. Thankfully the stake straps were lengthy enough for me to find some flat mid-size rocks and set a larger rock on top to keep the tent in place.
Taking advantage of the last two hours of light, I was sitting in my chair reading when one of the bikers that passed by earlier walked over. He said they had some beer and brats, were getting ready to start a fire, and come on over. I wouldn't decline their offer, of course. I finished the chapter I was reading and walked for two or three minutes until I reached their campsite. Given the time of year and unusually warm temperatures, I was surprised at how empty the campground was. As I walked up, the black lab came running up to me with a fabric duck in his mouth. I already knew it would be a fun evening.
"Come on over," Mitch said, as he reached into a large cooler and, by happenstance, pulled out a Devil's Backbone beer. I asked where he picked it up and he told me he had done some research before he and his brother Pete left Schenectady, New York. On their two week trip they were on, he had about half a dozen brewery stops planned. The other breweries were in North Carolina, South Carolina, Georgia, and Florida on their way to the Keys. Pete pulled over a chair and told me to have a seat. Both brothers were recently retired and had put off a long trip together for years. They wanted to do it in the fall and were taking advantage of the current weather. The highlights of their trip would be the entire length of Skyline Drive and The Blue Ridge Parkway, along with some destination roads of particular interest to bikers, finally ending in Key West.
As soon as I sat down, Bear, the lab, brought me his duck again. Pete and Mitch showed me their impressive travel accommodations. The trailer was custom made and held the large cooler, a tent big enough for two queen size air mattresses, the air mattresses themselves, a portable grill and a few small propane tanks, and various other items. I told them they weren't bike camping, but bike glamming, and Mitch wholeheartedly admitted that if we didn't have his own air mattress he wouldn't have come. Pete took the brats out of the cooler and threw them on the grill and handed me another beer. I threw Bear's duck again and helped Mitch get the fire going. Mitch and Pete were the gracious hosts so I kept Bear entertained and the fire burning. We talked for hours while finishing up all the brats and a fair number of the various beers before calling it a night close to 11 pm.
I'm very particular about who I ride with, because when I ride, I ride hard. I liked Mitch and Pete even more the following morning because they were also up before sunup breaking camp. Mitch invited me over for breakfast before they put the grill away. We had scrambled eggs and coffee, along with some muffins my wife had made. (How to be a good husband tip #2: Brag about your wife's cooking to others.) It was another gorgeous day of blue skies and sunshine and all three of us had more curves to ride, footboards to scrape, mountain air to breathe, vistas to see, and breweries to stop by. We said our goodbyes and were on the road before 8 am.
This was just an overnight trip for me, but it would be a long day two. I left the Blue Blue Ridge Parkway just south of Otter Creek Campground at the James River and followed its winding cut of the Blue Ridge, until I was in the Shenandoah Valley. Out of the Valley, I turned west on Route 39 to Goshen Pass, a narrow canyon where the Maury River rushes through with continuous sets of rapids. The canyon was almost like a golden tunnel. The Allegheny Mountains in the western portion of Virginia were once dotted with resorts due to numerous mineral springs. I rode through Warm Springs, Hot Springs, Healing Springs, and Falling Springs on Route 220, which was a kaleidoscope of fall colors the entire length.
My first stop for anything other than fuel and restroom facilities was The Washington Street Pub in Lewisburg, West Virginia. I had been there before while staying in the area for a white water rafting trip on the New River, and was looking for any excuse to come back. Their Corned Beef and Irish Stew is the real deal, and of course, they have imported Irish beers, but I was also there for the decent selection of local beers on tap. Almost Heaven Amber Ale from Mountain State Brewing Company in Thomas, West Virginia and Oktoberfest from Bridge Brew Works, from nearby Fayetteville, West Virginia are the two that I thoroughly enjoyed. Interesting fact and side note: The third Saturday of October is annual Bridge Day in Fayetteville, West Virginia. The four lane New River Gorge Bridge, which was once the world's longest single-span arch bridge, is closed to vehicle traffic and opened for pedestrians to walk and for base jumpers to jump into the bottom of the gorge, 876 feet below.
After my early (and quick) lunch, I was on the road again, meandering my way home by way of Green Bank, West Virginia, and Monterey and Staunton, Virginia. Most of the roads running north and south in the eastern part of West Virginia run parallel to creeks and rivers in the valleys. In the spring, you're walled in by flowering blossoms and in the fall you're walled in with the vivid colors nature gives up before the more bleak, almost sickly looking season of winter, which actually does hold its own beauty of you look for it.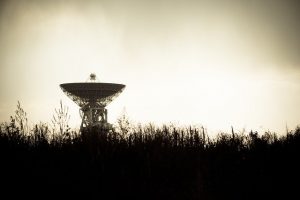 There is no place in the country like Green Bank. The largest radio telescope in the world is located at the Green Bank Observatory. The site was decided upon due to natural barriers to radio interference and the tiny community of Green Bank has zero cell phone reception. So make sure you have a map or know your way around. When I've had more time I've stopped and toured the observatory and their interactive Science Center. In nearby Cass or Durbin, you can take a ride on a steam train, which books up fast for fall rides.
After a short facility stop at Green Bank, I made my way back into Virginia. There's not much in Monterey except farms and mountains, which, for the record, I don't mind. I always stop at the gas station in the middle of town on the corner of the two main thoroughfares, Route 220 and Route 250. Sometimes gas station food is better left on the shelves or under the heat lamp, but they always have fresh hot dogs and wedge potatoes. Monterey also happens to be the location of the Highland Maple Festival each spring. It's just another excuse for me to ride over four mountain ridges to go somewhere.
95 miles of Route 250 would almost take me straight to my house, but the first 45 miles are pretty much the only way to get to Staunton unless you're a bird. My last stop before home is Redbeard Brewing Company, on the Shenandoah Beerwerks Trail. Other breweries on the Shenandoah Beerwerks Trail include Basic City Beer Company, The Friendly Fermenter, Seven Arrows Brewing, Shenandoah Valley Brewing Company, and several others. I had never been to Redbeard Brewing. I had a red beard at the time. Seemed reason enough to me for a planned stop. I had been in full riding gear all day and the mid 70's made it a comfortable warm, so I was ready for a refreshing cool drink. To be perfectly honest, I've forgotten which beer I sampled, but I believe it was the Augusta Amber. I tend to like Ambers the most, and I don't often stray from them. That being the case, it's amazing how many different bodies, flavors, and notes I still find.
I despise riding on the interstate. I don't like them at all. They're boring, minus a very few that cross mountains, so they require no operational or technical changes in how you're riding. After my last stop, it would be dark before too long. I hopped on the super slab for fifty miles anyway to book it home in time for dinner. I imagine that unimaginably perfect two day trip will probably remain one of my all time favorites for years to come.